"God wants us to prosper financially, to have plenty of money, to fulfill the destiny He has laid out for us."- Joel Osteen 
The most important thing to do before investing is to have knowledge on how the stock market operates.  The main source of fear is lack of knowledge. There are many people who lost lots of money in stock market because of wrong strategy.  They let their emotions rule.
When I went abroad, I have literally 'zero knowledge' about investing.  It was engraved in my mind that having a savings account in the bank is enough.  But then my life turned 180 degrees when I started to subscribe in TRULY RICH CLUB of Bo Sanchez. According to Brian Tracy, one of the way to be successful is to do the things that other successful person do. It is the easiest way to success.
Every three months, I received…
 Success mentor collection of Bo Sanchez wherein he interviewed successful people who are experts in different areas like Edward Lee, Larry Gamboa, Bernie Liu, and Bernard Marquez. I have learned lots of things that I didn't learn from other people.
Every month, I received…
Powertalks which are powerful, uplifting and inspirational talks from Bo Sanchez that is in MP3 format that I can easily download and listen to in my Sony walkman.  It contains messages that encourage me and enrich my soul.
Wealth strategies that are life-changing principles and practical action plans on how to grow in my financial life from Bo Sanchez and Dean Pax Lapid, former Dean of Entrepreneur School of Asia. (Dean is also a Professor of Entrepreneurship at Asian Institute of Management, one of the most prestigious business schools in Asia. He is a prolific entrepreneur, creating one new business a year)
Stock updates that thought me how to build wealth through stock investing.  It updates me when it is time to buy and sell the stock.  It encourages me to faithfully invest every month.
Every day, I received…
GOD whisper messages that are great affirmations to start the day with. Today, I received this message,
Dear Danecca Concha,

The road to heaven is paved with many trials. Yes, My Kingdom is your destiny. Heaven is your destination. But you will have to choose to walk the road towards it. Keep fighting to stay on the straight and narrow road because your reward is definitely worth all your troubles.

Your Destiny of Glory,

God

P.S. Danecca Concha, what little steps to heaven do you need to make today?
There's more! I also received a  free e-books entitled  " How to turn your thoughts into things" and "How to conquer your Goliath"
Bro. Bo Sanchez thought me to GAIN FINANCIAL WEALTH AND SPIRITUAL ABUNDANCE at the same time.  Currently, I am enjoying the blessing that I gained from Bro. Bo and by writing this article I hope that I can share the blessing to others..
P.S.
Don't procrastinate, for time is essential in investing;Don't fear,for courage  is not the absence of fear, but the capacity for action despite our fears. Click the link and be blessed…
TrulyRichClub.com – Do You Want to Gain Financial Wealth and Spiritual Abundance at the Same Time?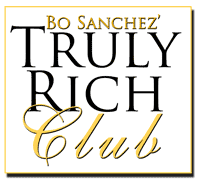 GodWhispersClub.com – Get A Megadose of Blessing. And Take Your Life To A New Direction.
FamilyReborn.com – How To Increase The Love In Your Family And Prevent Them From Drifting Apart
52 Healing Habits – How to Transform Your Health, in Body and Soul, One Simple and Powerful Habit at a Time!